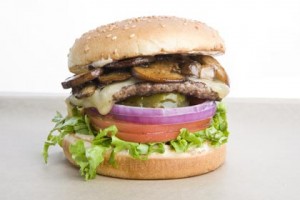 "Rain City Burgers is big on choices"
By Misha Berson, Seattle Times Staff
Gourmet-burger joints are almost mandatory for any gastronomically friendly Seattle neighborhood. And for a while now, the Roosevelt-Bryant district has had one tucked into a tiny storefront at the busy corner of 65th Street Northeast and Roosevelt Way Northeast.
The cheerful, family-owned Rain City Burgers is a fast-food haven that doesn't put on airs. But it does proudly serve natural-beef patties cooked to order, with no added hormones or antibiotics, from cows fed a vegetarian diet. Ingredients are fresh, and the potatoes and onion rings are fried in 100 percent canola oil.
The menu: Thirteen different styles of juicy beef quarter pounders are the centerpiece of the menu, but diners can also get chicken, veggie, salmon or buffalo burgers with many (or no) trimmings, along with hand-dipped ice-cream milkshakes and fries. Burger prices start at $4.09 and top out at $7.49 (for buffalo). Read Full Article at Seattle Times Website
---
"Just a bus away: Rain City Burgers"
By Kevin Kwong, development@dailyuw.com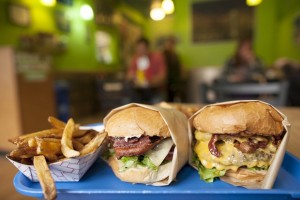 While the actual inventor of the hamburger is a hotly contested subject, its country of origin, the USA, is fairly certain. Since its invention sometime in the late 1800s, burgers have steadily become a staple of American culture. Domestically, burger joints dominate our city streets. Internationally, it is an universally recognizable symbol of the red, white, and blue.
Its cultural significance is rather astounding when considering the simplicity of the burger. Just grill up some meat and slap it on a bun. In many ways, this simplicity is a major part of its popularity. You don't need the incredible fry cook skills of Spongebob Squarepants to craft a decent burger. Read more at DailyUW website